Shopping Basket
Your Basket is Empty
There was an error with PayPal
Click here to try again
Thank you for your business!
You should receive an order confirmation from Paypal shortly.
Exit Shopping Basket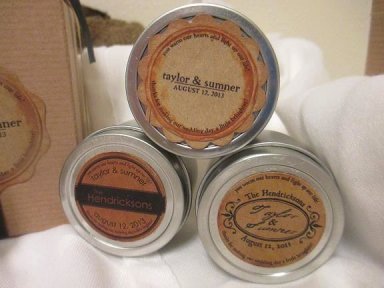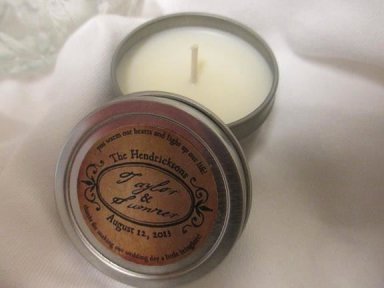 Planning a wedding or special occassion?   Check out our custom candles for weddings & events!  People love these adorable candles personalized with your names and sentiments and will cherish
them (unlike many favors that end up in the trash :))  Not only are they adorable, smell great (custom scents available too!), and fun, but they are an earth friendly option that will portray your sustainable values.  Please use our contact form or call us to start your special candles for your special day!
-Amy
Ugh.  I saw some candles today that clearly stated, " pure essential oils in 
soy wax" that was labeled as an aromatherapy candle and had some nice verbiage on the back about the benefits of the essentials oils supposedly in the candles.  I opened the box and bam!  synthetic fragrance filled my lungs and eyes.  Evidently there must be
some
essential oils in there
somewhere
but there was also lots of sickening, overpowering, synthetic fragrance also.   Where is the truth in advertising?  Who is regulating this?  Obviously no one.  How sad.  By all outward accounts, these candles appeared to be 100% natural, plant based candles with JUST essential oils.  What kind of aromatherapy is it if it kills you?  I was sad to see this (I see it a lot but usually the labels say "
with
essential oils" or "essential oil blend", still deceiving but, I now know these deceiving terms and look for them).  Of course, I can tell right away by smelling a candle whether it is real or not.  Can you?  I would love to here if others can tell, or if they think that maybe they are just allergic to certain flowers or the scent is to strong and that is what is bothering them rather than thinking that a company is deceiving them. 
I am excited to announce that Isabella Catalog ( www.isabellacatalog.com) will be selling my Strawberry Lemonade candles!  This candle is made with organic strawberry flavor oil & organic lemon essential oil and smells AMAZING!  It transports you to a warm front porch, surrounded by friends and beauty, sipping refreshing & fulfilling, natural lemonade with fresh strawberries.  Each candle is made in a re-usable, sturdy, 8 ounce glass that can be filled (after your candle burns out) with the lemonade you make from the included "secret" lemonade recipe!  YUMMMMMMMMMMYYYYYYYY!!!!!!!
Thank you, California, for a warm welcome to the California Gift Show!  I was in the LA Mart/Beckman's West division and the response was wonderful!  So many retailers are switching from synthetic fragrance and petroleum based candles.....it is wonderful!  Not only am I excited that business is booming, but I am so glad that more non-renewable resources are being saved and less toxins will be filling the air!  A great big thanks to my new clients!  You can now find my 100% natural soy candles (for real 100%, not 100% soy and then added toxic fragrance like most candles!) at these fine locations:
Splendid Things ( Paso Robles, CA)
Urban Farmhouse (Salinas, CA)
Topanga Home Grown (Topanga, CA)
Vintage Cousins (Whittier, CA)
Designer's Furniture (Glendale, CA)
The Washburne Cafe' (Springfield, OR)
Roxie's Charity Boutique and Gallery (Phoenix, AZ)
Etcetera (Portland, OR)
Designscape (Hanalei, Hawaii)
MADE art boutique (Phoenix, AZ)
Chris Hart Studio ( Grants Pass, OR)
and in the spring....Mono Lake Committee...Mono Lake, CA (Yosemite)
Hope you are near one! 
My wonderful wholesale clients!  I will be at the California Gift Show January 20-23!  Come and smell my candles in person and choose your favorite!  See you there!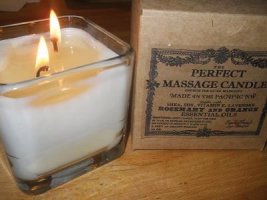 They're back!  Customers were going nuts awaiting the return of my massage candles and I am happy to say, they are back!  I had decided to remove them until I had labels that were worthy of the candle.  Vintage Paper Boutique has designed just that and I am proud to introduce my amazing, natural, nourishing, perfectly warm massage candle with its new, apothecary vintage style label.  As always, there are NO SYNTHETIC FRAGRANCES, PHALATES or Foreign Materials in The Perfect Massage Candle.  Enjoy!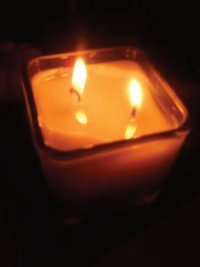 Thanks to product placement in season 2 of Portlandia, I was honored to be able to attend the premier last night.  It was fun to see my company up on the screen, visit with the actors and get a sneek peak of the season.  But alas, despite a free flowing, hosted bar and ample food, I  couldn't wait to get back home to kiss my children goodnight and cuddle up in my warm bed!
I just found out that the wonderful woman, Jackie, with brain cancer ,
 that I have been colaberating a fundraiser with Chinaberry Inc./ Isabella to help ease her medical bills..........Is healed!   Her scan came back free and clear!  How awesome is that!  To raise funds I made a candle that Isabella named Believe.  It was filled with essential oils shown to promote concentration, belief and hope.  Buyers were encouraged to say a prayer or meditate as they lit the candle everyday.   Many, many people bought this candle because they knew Jackie and would pray for Jackie as they lit the candle.  Now, something that is almost impossible, has happened!  I am so excited for her and her family.  What a wonderful Christmas gift!
The Believe candle is still available at
www.isabellacatalog.com
and part of its proceeds will still continue to go to pay for Jackie's medical bills so that she can enjoy her new life and not worry about daunting bills.
Last Minute Shopping Deal!  Free Shipping on all CANDLE orders over $50!
Stock up while it lasts!
All orders are shipped via UPS Ground, 1-3 business days after ordering.  Orders are sent from Vancouver, WA so keep this in mind when ordering, if you are in a time crunch!
Sorry, Body Products are not included in the free shipping.
/