Shopping Basket
Your Basket is Empty
There was an error with PayPal
Click here to try again
Thank you for your business!
You should receive an order confirmation from Paypal shortly.
Exit Shopping Basket
Thank you, California, for a warm welcome to the California Gift Show!  I was in the LA Mart/Beckman's West division and the response was wonderful!  So many retailers are switching from synthetic fragrance and petroleum based candles.....it is wonderful!  Not only am I excited that business is booming, but I am so glad that more non-renewable resources are being saved and less toxins will be filling the air!  A great big thanks to my new clients!  You can now find my 100% natural soy candles (for real 100%, not 100% soy and then added toxic fragrance like most candles!) at these fine locations:
Splendid Things ( Paso Robles, CA)
Urban Farmhouse (Salinas, CA)
Topanga Home Grown (Topanga, CA)
Vintage Cousins (Whittier, CA)
Designer's Furniture (Glendale, CA)
The Washburne Cafe' (Springfield, OR)
Roxie's Charity Boutique and Gallery (Phoenix, AZ)
Etcetera (Portland, OR)
Designscape (Hanalei, Hawaii)
MADE art boutique (Phoenix, AZ)
Chris Hart Studio ( Grants Pass, OR)
and in the spring....Mono Lake Committee...Mono Lake, CA (Yosemite)
Hope you are near one! 
How exciting it is to see my candles on other websites, in catalogs  and in stores!  Even more exciting is the fact that people are converting to sustainable, petroleum free, foreign material free, synthetic fragrance free candles!  I want the world to be healthy for a very long time.  Just thinking about the here and now doesn't work for me, especially since I have children so everyday I am reminded of what the future may bring.  I know that candles are just a little start, but how wonderful it would be if everything were sustainable and not petroleum based and full of toxins?!  Here are some amazing businesses, run by amazing people, that are devoted to selling only healthy, eco-friendly products.  They sell my candles and two
are offering free shipping for the holidays!  Thanks to companies like this, we will hopefully enjoy many more Merry Christmases.
I am very pleased to say that I now have pillar votives available!  They are so much fun to make and, since they don't come in a container, you can use your own favorite containers for these natural soy, essential oil & essence candles.  You do need containers for these or else they will melt all over.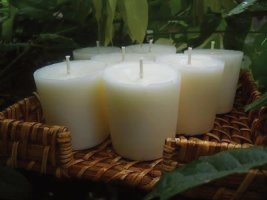 I have been experimenting with large pillar candles and tapers and wow, I have a whole new respect for those who succeed at this art form!  My large pillars aren't so hard to make, it's once I burn them that the fun begins!  They create a huge show of wax waterfalls and configurations.  My husband and children love them and get very excited to see what will happen next!  However, I don't know how well they will go over in the retail world?  
So, these Pictures are in backwards order, but I'll type forwards... #1 it started out nice, #2 Sixty Hours later....#3 only 10 hours later.  Entertaining, but not very practical.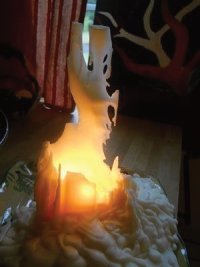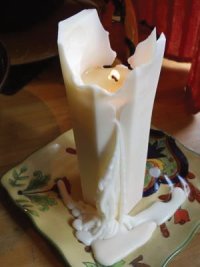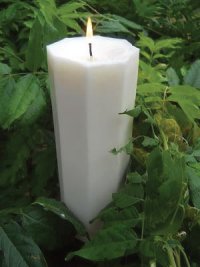 As far as tapers go, wow, they are hard to make look even!  My first batch was received with glee by my sons because they said they looked like Shrek candles!  EEK!  Ear Wax candles was not exactly the look I was going for!  I'm working on it though and I am still hopeful that I will be announcing a new line of pillar and taper
 soy candles very soon!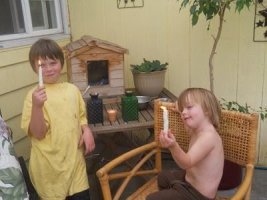 Sandalwood essential oil soy candles are now available!  I have had so many requests for sandalwood (which I had shunned away from due to the $100 an ounce price tag!) that I decided to see if possibly, sandalwood is so strong that I don't need much.  And I was very pleasantly surprised!  I have no desire to sell candles for $100 each.  After all, I really want people to stop depending upon petroleum based products and to stop using synthetic fragrance.  That isn't going to happen if a candle costs over $100!!!  Turns out, just a few drops of the highly fragrant essential oil is all I need for a  6 oz. candle.  YEAH!!!  Of course, that still means that each drop costs about $1.00, but, at least it keeps it attainable!  The smell is amazing!  Musky, earthy, exotic, sexy, very romantic if I do say so myself!
I also have combined sandalwood, frankensince, patchoulli  and a few other organic  oils, in an organic coconut oil base, to make a wonderful Musk. 
Some more exciting news!  I am in the process of making pillar candles!  I adore pillar candles and often come across beautiful pillar holders which I cannot use because my candles are all jar candles.  The soy I use is not solid enough to be made into pillars.  Once lit, the pillars would melt and create a a big mess!  However, the American company that makes my GMO free soy "wax", has made a GMO free, soy "wax" for pillar candles!  It is extra hard and I can't wait to see how it works!  If it works out well, you'll being seeing them on the website soon!
Ironically, our wonderful ice cream man brought me a box of pillar candle making supplies that he had found at a yard sale.  I was touched that he thought of me and told him how thankful I was.  However, at the time, I couldn't make pillar candles so I have just been storing the box.  I am so happy to be able to use it!  How did he know?  
NEW PRODUCT Trial SALE!!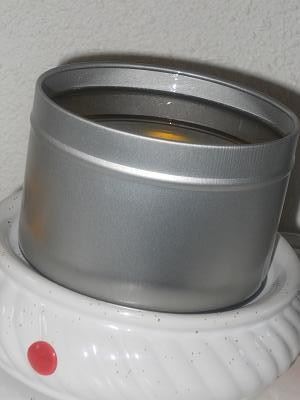 We now have flameless candles!  Just place your highly scented (with essential oils and botanicals) soy, wickless candle on the warmer and enjoy fire-free. healthy fragrance throughout your home or business for at least 2 months!  I love this flameless candle!  Because flames in candles burn hotter than the warmer, the scent lasts longer and is more true to form.  Unfortunately, we have yet to find a warmer that is both economical and Made in the U.S.A..  Any suggestions?  I REALLY need some Amercian Made warmers! 
When we come out with a new product,  we price it at a crazy low price so you can try it and see if you love it as much as we do!  For the month of September ONLY, Our Flameless Soy Candle Set is only $20 with FREE SHIPPING!!!  Comes with warmer so it is ready to go upon arrival!  After September, the price will be $30 plus shipping for the set, and $22 plus shipping for the flameless candle alone.   No limit!  Stock up for you and your friends!
/