Shopping Basket
Your Basket is Empty
There was an error with PayPal
Click here to try again
Thank you for your business!
You should receive an order confirmation from Paypal shortly.
Exit Shopping Basket
NEW PRODUCT Trial SALE!!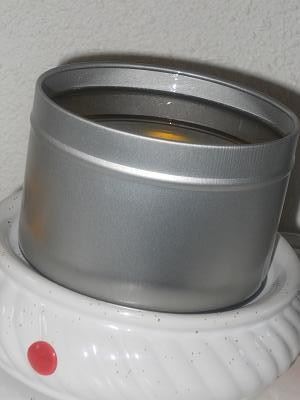 We now have flameless candles!  Just place your highly scented (with essential oils and botanicals) soy, wickless candle on the warmer and enjoy fire-free. healthy fragrance throughout your home or business for at least 2 months!  I love this flameless candle!  Because flames in candles burn hotter than the warmer, the scent lasts longer and is more true to form.  Unfortunately, we have yet to find a warmer that is both economical and Made in the U.S.A..  Any suggestions?  I REALLY need some Amercian Made warmers! 
When we come out with a new product,  we price it at a crazy low price so you can try it and see if you love it as much as we do!  For the month of September ONLY, Our Flameless Soy Candle Set is only $20 with FREE SHIPPING!!!  Comes with warmer so it is ready to go upon arrival!  After September, the price will be $30 plus shipping for the set, and $22 plus shipping for the flameless candle alone.   No limit!  Stock up for you and your friends!
So, I was at a local natural store and saw, what looked great, body butters.  The front labels said,"phalate-free, toxin free, petroleum free and all natural".  Awesome right?  I flipped it over and the ingredient list went a mile long. Parfum. Urea. and a bunch of unrecognizeable words.  Other butters had fragrance and mineral oil (petroleum) and synthetic dyes.  I came home and improved the butters I already have and begged Vintage Paper Boutique to design me more attractive labels.  And they are gorgeous!  Elise never fails to impress with her amazing talent at creating that image that I imagine but can't create.  Now my butters are not only the best available, but the labels alone make them collectable!
Being a candle maker, I am often checking out competition and one thing really drives me bonkers (well, not bonkers, but it bothers me!).  That is the majority of candles that claim to be "aromatherapy" or "made with soy" or
"all natural".   In order to be aromatherapy, a candle needs to actual have the true aroma (in other words, essential oils or essences) in the candle.  I am amazed at how many candles have absolutely no real oil in them!  Only synthetic fragrance derived from petroleum that is labeled TOXIC by the FDA (but candles and body products do not have to label it as so , they just have to put fragrance).  The FDA has said that due to the low percentage of the synthetic fragrance, it does not have to be labeled.  You will find synthetic, toxic, cancer causing fragrance in ORGANIC body products, Natural Soy Candles, Aromatherapy Candles/Body Products& Natural Home Products.  This minuscule amount of fragrance can kill me!  Or at least send me to the E.R.!   What kind of "aromatherapy" is that?!  Customers are becoming more aware of the dangers of burning paraffin candles but are still learning that most products still contain petroleum & phalates in the form of fragrance.  All it takes is for us to get the word out!  We like to trust our manufactures and the labels on items.  Just like you read the ingredient list on foods, I highly recommend reading the ingredients on candles.  If it doesn't say made of: 100% soy, Essential oils (or plant essences/botanicals), and a cleaner burning and sustainable cotton wick.......stay clear!  Your lungs are at stake!
OH, you are going to flip for my new, handcrafted, pottery containers!  Raine or Shine Pottery (yes, it is spelled correctly) of Woodland, WA, has handcrafted and designed the perfect little pots for my candles.  They are slightly curved in for maximum burn time and glazed in a cream colored glaze to enhance any home decor.  Three slightly different sizes will be available, or you can buy the set of 3.  When your candles have burned out, you have wonderful pottery to keep (or, if you live local, bring them to me at JUST THE GOOD STUFF and I can refill them!).  Thank you Raine or Shine Pottery!!!
/