Shopping Basket
Your Basket is Empty
There was an error with PayPal
Click here to try again
Thank you for your business!
You should receive an order confirmation from Paypal shortly.
Exit Shopping Basket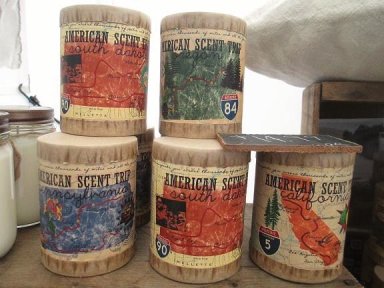 Take a journey with your nose through the USA!  I'm
creating, based upon my own, personal travels, a series of candles that takes you on a journey through each state with your nose! 
As Helen Keller put it so perfectly , " Smell is a potent wizard that transports you across thousands of miles and all the years you have lived."
Currently ready are:
Oregon (made with pure essential oils of Douglas fir, sage & coffee with a helping of organic hazelnut and marionberry flavor oils)
Washington (made with pure essential oils of Douglas fir, lavender, & lilac with a generous helping of organic apple flavor oil)
California (nothing reminds me more of California than a fresh, warm, just of the tree, juicy orange- plus, I've added essential oils of Redwood cedar & eucalyptus along with organic strawberry and grape flavor oils)
Pennsylvania (we used to live near Hershey, Pa so I was awakened by the smell of warm chocolate wafting through my window each morning.  Thus, this yummy candle contains: organic chocolate flavor oil along with organic oils of: honeysuckle, cinnamon, and molasses)
South Dakota (after long, hot drives across South Dakota, a stop at Wall Drug for a strawberry shake or some local sassparilla is just the ticket.  Add the essential oils of spruce, pine, and sage from the forests and you've got an amazing scentsation!)
Each state comes with a more descriptive story and some interesting facts or recipes from/about the state.
Some fun tidbits-
Our American Scent Trip candles have been featured on USA Love List and are one of the founder's favorite items of all time!
The cast of the t.v. show, GRIMM, adore my AST-Oregon candles and wrote a special note to Vance Family Soy Candles to let us know!
The first lady of Oregon is a fan of our AST-Oregon candles!
I hope you, too, enjoy our new candle line and they transport you on a trip throughout the beautiful country of America!  - Amy
Thank you, California, for a warm welcome to the California Gift Show!  I was in the LA Mart/Beckman's West division and the response was wonderful!  So many retailers are switching from synthetic fragrance and petroleum based candles.....it is wonderful!  Not only am I excited that business is booming, but I am so glad that more non-renewable resources are being saved and less toxins will be filling the air!  A great big thanks to my new clients!  You can now find my 100% natural soy candles (for real 100%, not 100% soy and then added toxic fragrance like most candles!) at these fine locations:
Splendid Things ( Paso Robles, CA)
Urban Farmhouse (Salinas, CA)
Topanga Home Grown (Topanga, CA)
Vintage Cousins (Whittier, CA)
Designer's Furniture (Glendale, CA)
The Washburne Cafe' (Springfield, OR)
Roxie's Charity Boutique and Gallery (Phoenix, AZ)
Etcetera (Portland, OR)
Designscape (Hanalei, Hawaii)
MADE art boutique (Phoenix, AZ)
Chris Hart Studio ( Grants Pass, OR)
and in the spring....Mono Lake Committee...Mono Lake, CA (Yosemite)
Hope you are near one!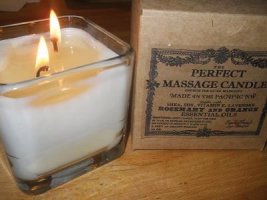 They're back!  Customers were going nuts awaiting the return of my massage candles and I am happy to say, they are back!  I had decided to remove them until I had labels that were worthy of the candle.  Vintage Paper Boutique has designed just that and I am proud to introduce my amazing, natural, nourishing, perfectly warm massage candle with its new, apothecary vintage style label.  As always, there are NO SYNTHETIC FRAGRANCES, PHALATES or Foreign Materials in The Perfect Massage Candle.  Enjoy!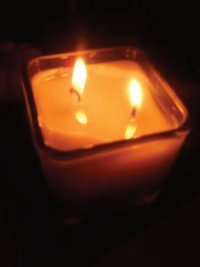 So, I was at a local natural store and saw, what looked great, body butters.  The front labels said,"phalate-free, toxin free, petroleum free and all natural".  Awesome right?  I flipped it over and the ingredient list went a mile long. Parfum. Urea. and a bunch of unrecognizeable words.  Other butters had fragrance and mineral oil (petroleum) and synthetic dyes.  I came home and improved the butters I already have and begged Vintage Paper Boutique to design me more attractive labels.  And they are gorgeous!  Elise never fails to impress with her amazing talent at creating that image that I imagine but can't create.  Now my butters are not only the best available, but the labels alone make them collectable!
Being a candle maker, I am often checking out competition and one thing really drives me bonkers (well, not bonkers, but it bothers me!).  That is the majority of candles that claim to be "aromatherapy" or "made with soy" or
"all natural".   In order to be aromatherapy, a candle needs to actual have the true aroma (in other words, essential oils or essences) in the candle.  I am amazed at how many candles have absolutely no real oil in them!  Only synthetic fragrance derived from petroleum that is labeled TOXIC by the FDA (but candles and body products do not have to label it as so , they just have to put fragrance).  The FDA has said that due to the low percentage of the synthetic fragrance, it does not have to be labeled.  You will find synthetic, toxic, cancer causing fragrance in ORGANIC body products, Natural Soy Candles, Aromatherapy Candles/Body Products& Natural Home Products.  This minuscule amount of fragrance can kill me!  Or at least send me to the E.R.!   What kind of "aromatherapy" is that?!  Customers are becoming more aware of the dangers of burning paraffin candles but are still learning that most products still contain petroleum & phalates in the form of fragrance.  All it takes is for us to get the word out!  We like to trust our manufactures and the labels on items.  Just like you read the ingredient list on foods, I highly recommend reading the ingredients on candles.  If it doesn't say made of: 100% soy, Essential oils (or plant essences/botanicals), and a cleaner burning and sustainable cotton wick.......stay clear!  Your lungs are at stake!
Don't forget!  Tomorrow is First Friday @ Milepost 5!!  Come enjoy the festivities as artists throughout the complex open up their studios and let strangers in.  Everyone is welcome and the retail shops (including mine, JUST THE GOOD STUFF), will often have sales and workshops, while the artists throughout the complex dull out treats and love to talk about their work.  E.A.T. will most likely have a band playing  on their stage and will, ofcourse, be serving their out-of-this-world food.  See you there?
Milepost 5 is really easy to get to.  Just take I-205 to the Glisan exit and go west.  Turn right on NE 82nd Ave.. Go one block and turn left on Oregon St.. Find a place to park.
So, at my store's Grand Opening the Mayor, Sam Adams, came in and said, "This is the best smelling store in Portland!".  Well, he is right about that one!
The Grand Opening of JUST THE GOOD STUFF @ Milepost 5 (NE 82nd, just N. of Glisan) was a lot of fun.  Many wonderful people came in, browsed, oohed and aahhed & bought organic fragrance for their home & body.  If you have the chance to stop by, I also have a collection of upcycled home & garden art (tiki torches, hummingbird feeders, garden art), handmade chocolates, hand painted glassware, fused glass, jewelry, pottery faces made by my son, greeting cards and whimsies.  I hope to see you there! 
Wanted to let everyone know to check back soon for my new WICKLESS massage candles and Aromatherapy Candles.  You just place the elegant, wickless, soy candle on a warming plate and as it heats up, the organic aroma wafts throughout the rooms.  The massage candle is then at the ready for impromptu massages rather than having to light it and wait for the "wax" pool to develop.  You can keep your "candle" going throughout the day with no flame.  Cool huh?
I am jazzed!  Now you can buy my highly sought after candles at my little boutique in Milepost 5.  Located just N. of Glisan on NE 82nd Ave., and across from the community center park, Milepost 5 is a live/work community with a fab restaurant E.A.T. (eat, art, theater), a gallery, free community activities and concerts, and various shops.  My shop, JUST THE GOOD STUFF, located next to the restrooms in the hallway by the restaurant, will be loaded with my candles, melts, and body products, as well as upcycled items for the home and garden and necessary treats (caramel corn and chocolates for starters).  Official opening will be March 18th, with the Grand Opening Ceremony April 8th.  The complex grand opening extends throughout the weekend with free activities, music, a ribbon cutting ceremony by the mayor, and much more.  I will be giving out FREE samples of sweet w/ heat caramel corn and lip balm. Hope to see you there!
/