Shopping Basket
Your Basket is Empty
There was an error with PayPal
Click here to try again
Thank you for your business!
You should receive an order confirmation from Paypal shortly.
Exit Shopping Basket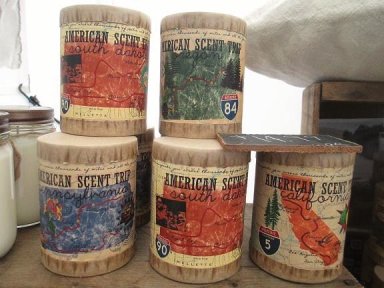 Take a journey with your nose through the USA!  I'm
creating, based upon my own, personal travels, a series of candles that takes you on a journey through each state with your nose! 
As Helen Keller put it so perfectly , " Smell is a potent wizard that transports you across thousands of miles and all the years you have lived."
Currently ready are:
Oregon (made with pure essential oils of Douglas fir, sage & coffee with a helping of organic hazelnut and marionberry flavor oils)
Washington (made with pure essential oils of Douglas fir, lavender, & lilac with a generous helping of organic apple flavor oil)
California (nothing reminds me more of California than a fresh, warm, just of the tree, juicy orange- plus, I've added essential oils of Redwood cedar & eucalyptus along with organic strawberry and grape flavor oils)
Pennsylvania (we used to live near Hershey, Pa so I was awakened by the smell of warm chocolate wafting through my window each morning.  Thus, this yummy candle contains: organic chocolate flavor oil along with organic oils of: honeysuckle, cinnamon, and molasses)
South Dakota (after long, hot drives across South Dakota, a stop at Wall Drug for a strawberry shake or some local sassparilla is just the ticket.  Add the essential oils of spruce, pine, and sage from the forests and you've got an amazing scentsation!)
Each state comes with a more descriptive story and some interesting facts or recipes from/about the state.
Some fun tidbits-
Our American Scent Trip candles have been featured on USA Love List and are one of the founder's favorite items of all time!
The cast of the t.v. show, GRIMM, adore my AST-Oregon candles and wrote a special note to Vance Family Soy Candles to let us know!
The first lady of Oregon is a fan of our AST-Oregon candles!
I hope you, too, enjoy our new candle line and they transport you on a trip throughout the beautiful country of America!  - Amy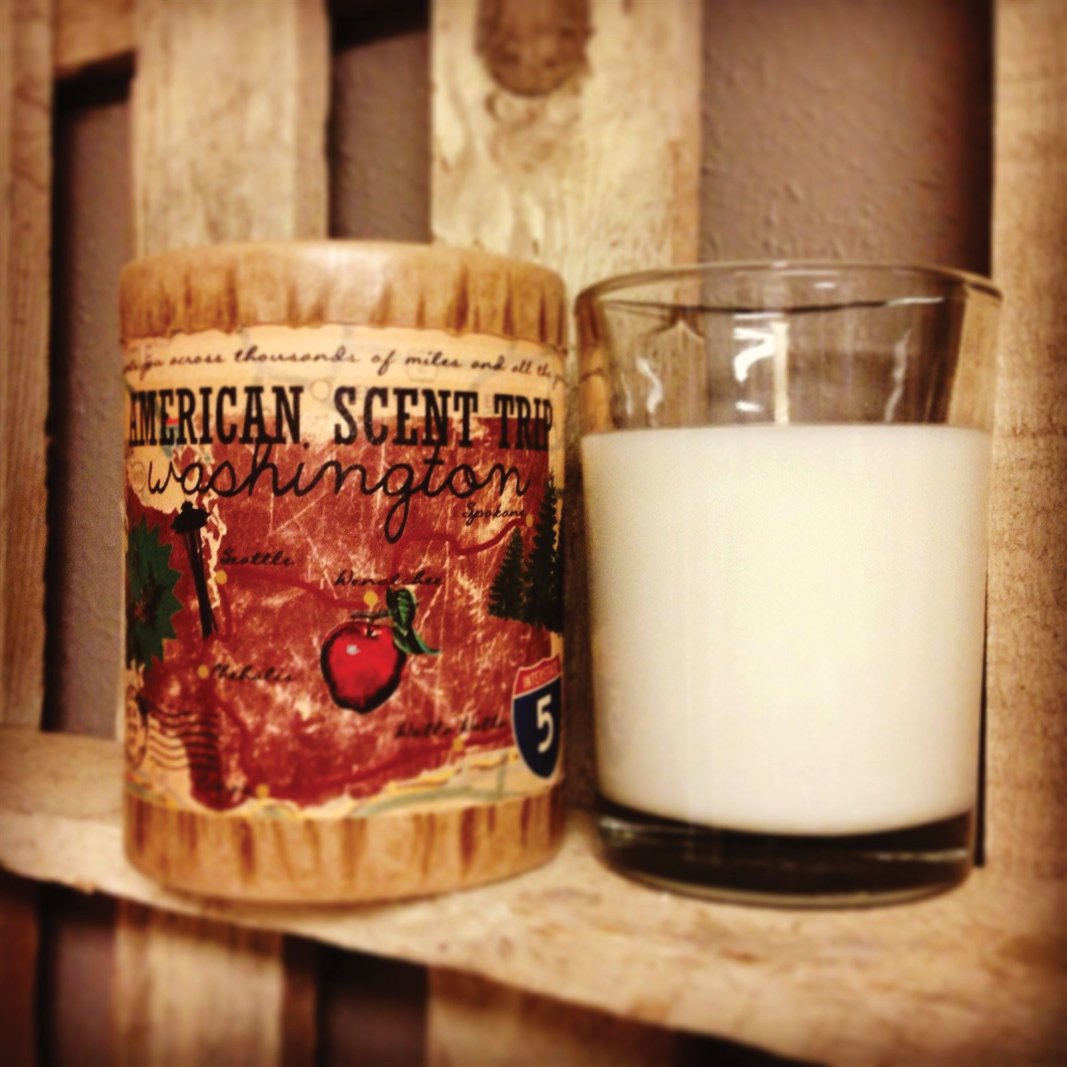 I am having so much fun making my American Scent Trip candles!  I've lived, or visited, almost every state in the USA and am now creating a candle series that takes you on a "scent trip" through the states!  Each candle is scented with the real deal (of course!) so it really smells like the real deal!  For instance, American Scent Trip- Washington is made using pure fir essential oil (Douglas Fir is the state tree!), organic apple flavor oil, and a hint of organic lavender & lilac oil.  It smells AMAZING and, coupled with my story on the label, it takes you on a scent journey through the state of Washington.  So far, I've created Washington, Oregon, Pennsylvania and California.  More coming soon!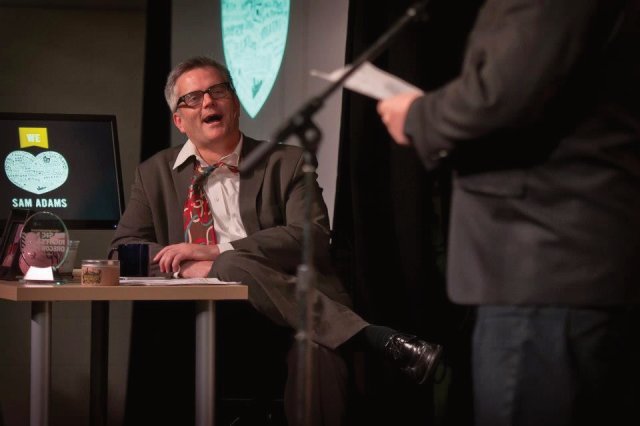 I've just got to share this because I am so honored!  At the Portland Mayor's going away extravaganza, with thousands in the audience and him on the stage receiving awards, he had a Vance Family Soy Candle on his desk!  On the right of his desk you will see our Keep Portland Weird candle.  Out of all of the things he could have put on his desk, he chose my handiwork!  I think it is totally cool!   
Thank you, California, for a warm welcome to the California Gift Show!  I was in the LA Mart/Beckman's West division and the response was wonderful!  So many retailers are switching from synthetic fragrance and petroleum based candles.....it is wonderful!  Not only am I excited that business is booming, but I am so glad that more non-renewable resources are being saved and less toxins will be filling the air!  A great big thanks to my new clients!  You can now find my 100% natural soy candles (for real 100%, not 100% soy and then added toxic fragrance like most candles!) at these fine locations:
Splendid Things ( Paso Robles, CA)
Urban Farmhouse (Salinas, CA)
Topanga Home Grown (Topanga, CA)
Vintage Cousins (Whittier, CA)
Designer's Furniture (Glendale, CA)
The Washburne Cafe' (Springfield, OR)
Roxie's Charity Boutique and Gallery (Phoenix, AZ)
Etcetera (Portland, OR)
Designscape (Hanalei, Hawaii)
MADE art boutique (Phoenix, AZ)
Chris Hart Studio ( Grants Pass, OR)
and in the spring....Mono Lake Committee...Mono Lake, CA (Yosemite)
Hope you are near one! 
Thanks to product placement in season 2 of Portlandia, I was honored to be able to attend the premier last night.  It was fun to see my company up on the screen, visit with the actors and get a sneek peak of the season.  But alas, despite a free flowing, hosted bar and ample food, I  couldn't wait to get back home to kiss my children goodnight and cuddle up in my warm bed!
How exciting it is to see my candles on other websites, in catalogs  and in stores!  Even more exciting is the fact that people are converting to sustainable, petroleum free, foreign material free, synthetic fragrance free candles!  I want the world to be healthy for a very long time.  Just thinking about the here and now doesn't work for me, especially since I have children so everyday I am reminded of what the future may bring.  I know that candles are just a little start, but how wonderful it would be if everything were sustainable and not petroleum based and full of toxins?!  Here are some amazing businesses, run by amazing people, that are devoted to selling only healthy, eco-friendly products.  They sell my candles and two
are offering free shipping for the holidays!  Thanks to companies like this, we will hopefully enjoy many more Merry Christmases.
NEW PRODUCT Trial SALE!!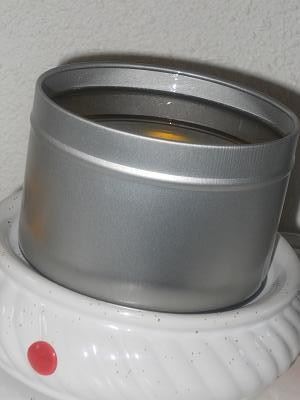 We now have flameless candles!  Just place your highly scented (with essential oils and botanicals) soy, wickless candle on the warmer and enjoy fire-free. healthy fragrance throughout your home or business for at least 2 months!  I love this flameless candle!  Because flames in candles burn hotter than the warmer, the scent lasts longer and is more true to form.  Unfortunately, we have yet to find a warmer that is both economical and Made in the U.S.A..  Any suggestions?  I REALLY need some Amercian Made warmers! 
When we come out with a new product,  we price it at a crazy low price so you can try it and see if you love it as much as we do!  For the month of September ONLY, Our Flameless Soy Candle Set is only $20 with FREE SHIPPING!!!  Comes with warmer so it is ready to go upon arrival!  After September, the price will be $30 plus shipping for the set, and $22 plus shipping for the flameless candle alone.   No limit!  Stock up for you and your friends!
Don't forget!  Tomorrow is First Friday @ Milepost 5!!  Come enjoy the festivities as artists throughout the complex open up their studios and let strangers in.  Everyone is welcome and the retail shops (including mine, JUST THE GOOD STUFF), will often have sales and workshops, while the artists throughout the complex dull out treats and love to talk about their work.  E.A.T. will most likely have a band playing  on their stage and will, ofcourse, be serving their out-of-this-world food.  See you there?
Milepost 5 is really easy to get to.  Just take I-205 to the Glisan exit and go west.  Turn right on NE 82nd Ave.. Go one block and turn left on Oregon St.. Find a place to park.
So, at my store's Grand Opening the Mayor, Sam Adams, came in and said, "This is the best smelling store in Portland!".  Well, he is right about that one!
The Grand Opening of JUST THE GOOD STUFF @ Milepost 5 (NE 82nd, just N. of Glisan) was a lot of fun.  Many wonderful people came in, browsed, oohed and aahhed & bought organic fragrance for their home & body.  If you have the chance to stop by, I also have a collection of upcycled home & garden art (tiki torches, hummingbird feeders, garden art), handmade chocolates, hand painted glassware, fused glass, jewelry, pottery faces made by my son, greeting cards and whimsies.  I hope to see you there! 
/