Shopping Basket
Your Basket is Empty
There was an error with PayPal
Click here to try again
Thank you for your business!
You should receive an order confirmation from Paypal shortly.
Exit Shopping Basket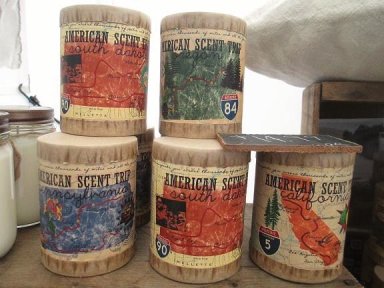 Take a journey with your nose through the USA!  I'm
creating, based upon my own, personal travels, a series of candles that takes you on a journey through each state with your nose! 
As Helen Keller put it so perfectly , " Smell is a potent wizard that transports you across thousands of miles and all the years you have lived."
Currently ready are:
Oregon (made with pure essential oils of Douglas fir, sage & coffee with a helping of organic hazelnut and marionberry flavor oils)
Washington (made with pure essential oils of Douglas fir, lavender, & lilac with a generous helping of organic apple flavor oil)
California (nothing reminds me more of California than a fresh, warm, just of the tree, juicy orange- plus, I've added essential oils of Redwood cedar & eucalyptus along with organic strawberry and grape flavor oils)
Pennsylvania (we used to live near Hershey, Pa so I was awakened by the smell of warm chocolate wafting through my window each morning.  Thus, this yummy candle contains: organic chocolate flavor oil along with organic oils of: honeysuckle, cinnamon, and molasses)
South Dakota (after long, hot drives across South Dakota, a stop at Wall Drug for a strawberry shake or some local sassparilla is just the ticket.  Add the essential oils of spruce, pine, and sage from the forests and you've got an amazing scentsation!)
Each state comes with a more descriptive story and some interesting facts or recipes from/about the state.
Some fun tidbits-
Our American Scent Trip candles have been featured on USA Love List and are one of the founder's favorite items of all time!
The cast of the t.v. show, GRIMM, adore my AST-Oregon candles and wrote a special note to Vance Family Soy Candles to let us know!
The first lady of Oregon is a fan of our AST-Oregon candles!
I hope you, too, enjoy our new candle line and they transport you on a trip throughout the beautiful country of America!  - Amy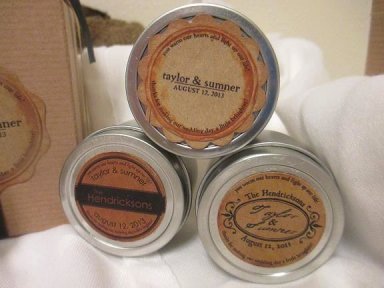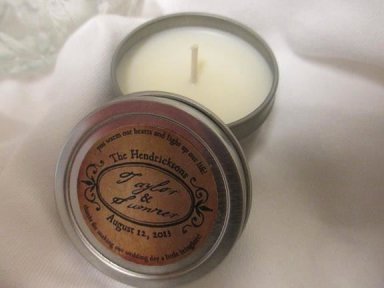 Planning a wedding or special occassion?   Check out our custom candles for weddings & events!  People love these adorable candles personalized with your names and sentiments and will cherish
them (unlike many favors that end up in the trash :))  Not only are they adorable, smell great (custom scents available too!), and fun, but they are an earth friendly option that will portray your sustainable values.  Please use our contact form or call us to start your special candles for your special day!
-Amy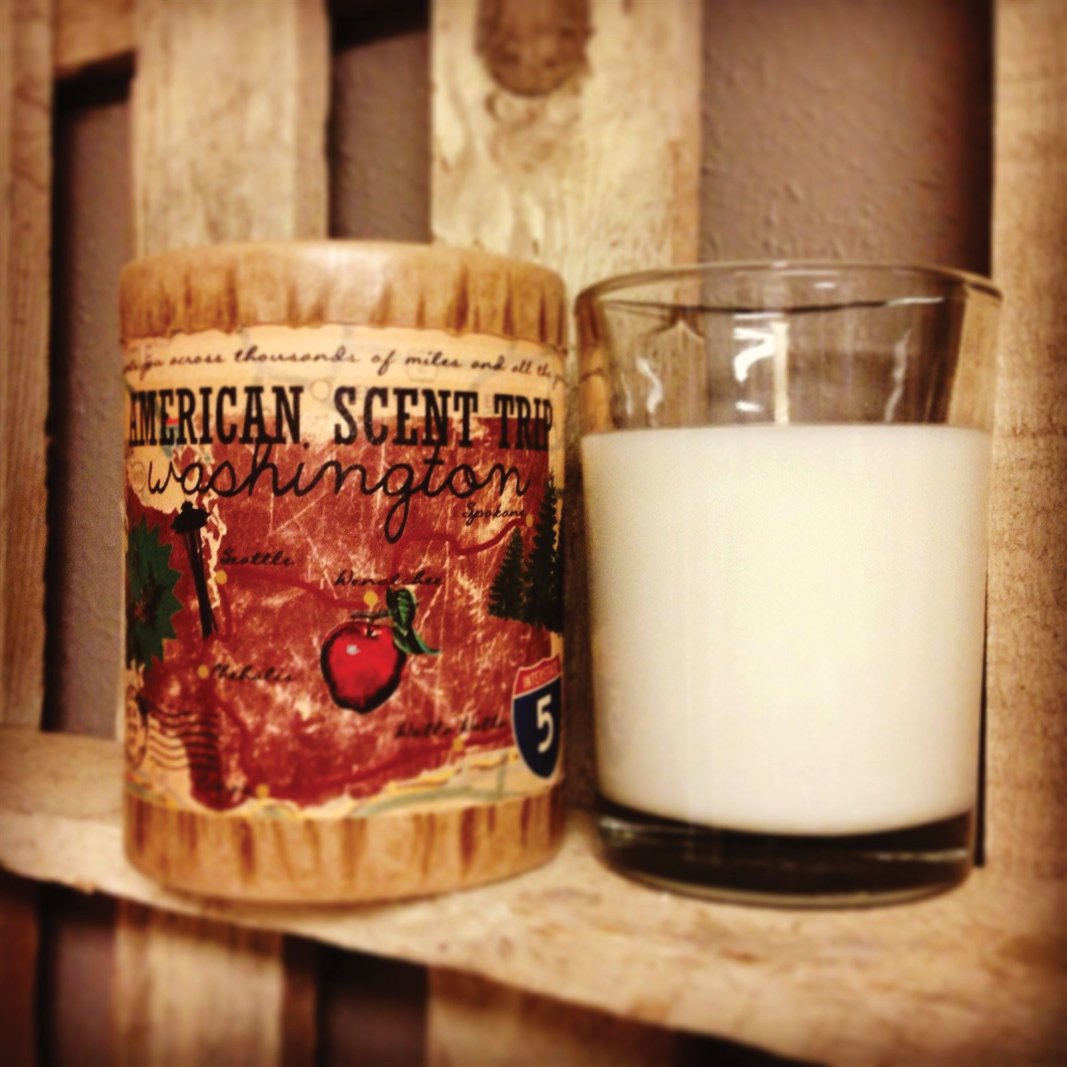 I am having so much fun making my American Scent Trip candles!  I've lived, or visited, almost every state in the USA and am now creating a candle series that takes you on a "scent trip" through the states!  Each candle is scented with the real deal (of course!) so it really smells like the real deal!  For instance, American Scent Trip- Washington is made using pure fir essential oil (Douglas Fir is the state tree!), organic apple flavor oil, and a hint of organic lavender & lilac oil.  It smells AMAZING and, coupled with my story on the label, it takes you on a scent journey through the state of Washington.  So far, I've created Washington, Oregon, Pennsylvania and California.  More coming soon!
Ever wonder why your soy candle looks like it has frosting on the top?  What about the bubble on the sides of the glass?  What about all those companies that say "soot free"?    Well, here are some answers!
1) Why DO soy candles start to change color and get a white "frosting" as they age? 
Answer:  This is actually a GOOD thing.  This is proof that the candle is made with real vegetable oils and not petroleum or synthetics.  It is just a natural occurance that doesn't affect the quality of the candle in the least bit.
2) What's up with the weird look on the sides of the glass? 
Answer:  This is the oil separating from the sides of the glass.  This is more common during the cold months.  It is perfectly normal and doesn't affect the quality of the candle.
3) So many companies claim their candles are "soot free" and  "smoke free", why don't Vance Family Soy Candles claim that?
ANSWER: Because  then we wouldn't be telling the truth.  In order to burn a candle, SOMETHING MUST BE BURNED.  When burning something, SOOT WILL HAPPEN.  Although soy candles (and especially our candles since we don't use petroleum in our scents either), and cottom wicks, let off  LESS soot than petroleum candles (parraffin), we don't claim things that aren't true.
Have any other questions?  We'd love to answer them!
I am excited to announce that Isabella Catalog ( www.isabellacatalog.com) will be selling my Strawberry Lemonade candles!  This candle is made with organic strawberry flavor oil & organic lemon essential oil and smells AMAZING!  It transports you to a warm front porch, surrounded by friends and beauty, sipping refreshing & fulfilling, natural lemonade with fresh strawberries.  Each candle is made in a re-usable, sturdy, 8 ounce glass that can be filled (after your candle burns out) with the lemonade you make from the included "secret" lemonade recipe!  YUMMMMMMMMMMYYYYYYYY!!!!!!!
Thank you, California, for a warm welcome to the California Gift Show!  I was in the LA Mart/Beckman's West division and the response was wonderful!  So many retailers are switching from synthetic fragrance and petroleum based candles.....it is wonderful!  Not only am I excited that business is booming, but I am so glad that more non-renewable resources are being saved and less toxins will be filling the air!  A great big thanks to my new clients!  You can now find my 100% natural soy candles (for real 100%, not 100% soy and then added toxic fragrance like most candles!) at these fine locations:
Splendid Things ( Paso Robles, CA)
Urban Farmhouse (Salinas, CA)
Topanga Home Grown (Topanga, CA)
Vintage Cousins (Whittier, CA)
Designer's Furniture (Glendale, CA)
The Washburne Cafe' (Springfield, OR)
Roxie's Charity Boutique and Gallery (Phoenix, AZ)
Etcetera (Portland, OR)
Designscape (Hanalei, Hawaii)
MADE art boutique (Phoenix, AZ)
Chris Hart Studio ( Grants Pass, OR)
and in the spring....Mono Lake Committee...Mono Lake, CA (Yosemite)
Hope you are near one! 
My wonderful wholesale clients!  I will be at the California Gift Show January 20-23!  Come and smell my candles in person and choose your favorite!  See you there!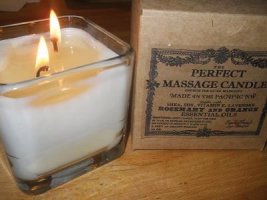 They're back!  Customers were going nuts awaiting the return of my massage candles and I am happy to say, they are back!  I had decided to remove them until I had labels that were worthy of the candle.  Vintage Paper Boutique has designed just that and I am proud to introduce my amazing, natural, nourishing, perfectly warm massage candle with its new, apothecary vintage style label.  As always, there are NO SYNTHETIC FRAGRANCES, PHALATES or Foreign Materials in The Perfect Massage Candle.  Enjoy!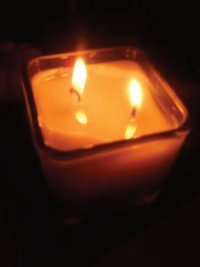 Last Minute Shopping Deal!  Free Shipping on all CANDLE orders over $50!
Stock up while it lasts!
All orders are shipped via UPS Ground, 1-3 business days after ordering.  Orders are sent from Vancouver, WA so keep this in mind when ordering, if you are in a time crunch!
Sorry, Body Products are not included in the free shipping.
How exciting it is to see my candles on other websites, in catalogs  and in stores!  Even more exciting is the fact that people are converting to sustainable, petroleum free, foreign material free, synthetic fragrance free candles!  I want the world to be healthy for a very long time.  Just thinking about the here and now doesn't work for me, especially since I have children so everyday I am reminded of what the future may bring.  I know that candles are just a little start, but how wonderful it would be if everything were sustainable and not petroleum based and full of toxins?!  Here are some amazing businesses, run by amazing people, that are devoted to selling only healthy, eco-friendly products.  They sell my candles and two
are offering free shipping for the holidays!  Thanks to companies like this, we will hopefully enjoy many more Merry Christmases.
/