Shopping Basket
Your Basket is Empty
There was an error with PayPal
Click here to try again
Thank you for your business!
You should receive an order confirmation from Paypal shortly.
Exit Shopping Basket
I am very pleased to say that I now have pillar votives available!  They are so much fun to make and, since they don't come in a container, you can use your own favorite containers for these natural soy, essential oil & essence candles.  You do need containers for these or else they will melt all over.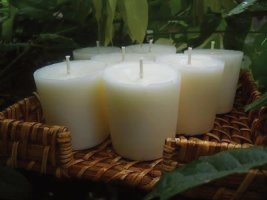 I have been experimenting with large pillar candles and tapers and wow, I have a whole new respect for those who succeed at this art form!  My large pillars aren't so hard to make, it's once I burn them that the fun begins!  They create a huge show of wax waterfalls and configurations.  My husband and children love them and get very excited to see what will happen next!  However, I don't know how well they will go over in the retail world?  
So, these Pictures are in backwards order, but I'll type forwards... #1 it started out nice, #2 Sixty Hours later....#3 only 10 hours later.  Entertaining, but not very practical.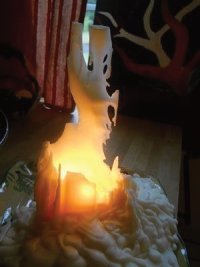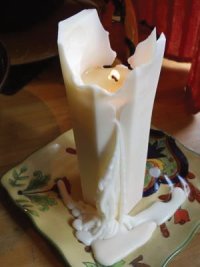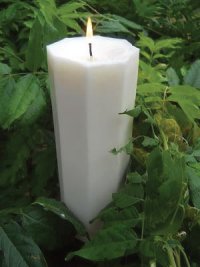 As far as tapers go, wow, they are hard to make look even!  My first batch was received with glee by my sons because they said they looked like Shrek candles!  EEK!  Ear Wax candles was not exactly the look I was going for!  I'm working on it though and I am still hopeful that I will be announcing a new line of pillar and taper
 soy candles very soon!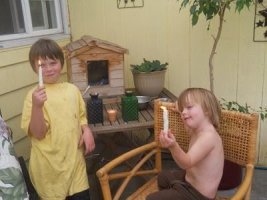 Sandalwood essential oil soy candles are now available!  I have had so many requests for sandalwood (which I had shunned away from due to the $100 an ounce price tag!) that I decided to see if possibly, sandalwood is so strong that I don't need much.  And I was very pleasantly surprised!  I have no desire to sell candles for $100 each.  After all, I really want people to stop depending upon petroleum based products and to stop using synthetic fragrance.  That isn't going to happen if a candle costs over $100!!!  Turns out, just a few drops of the highly fragrant essential oil is all I need for a  6 oz. candle.  YEAH!!!  Of course, that still means that each drop costs about $1.00, but, at least it keeps it attainable!  The smell is amazing!  Musky, earthy, exotic, sexy, very romantic if I do say so myself!
I also have combined sandalwood, frankensince, patchoulli  and a few other organic  oils, in an organic coconut oil base, to make a wonderful Musk. 
Some more exciting news!  I am in the process of making pillar candles!  I adore pillar candles and often come across beautiful pillar holders which I cannot use because my candles are all jar candles.  The soy I use is not solid enough to be made into pillars.  Once lit, the pillars would melt and create a a big mess!  However, the American company that makes my GMO free soy "wax", has made a GMO free, soy "wax" for pillar candles!  It is extra hard and I can't wait to see how it works!  If it works out well, you'll being seeing them on the website soon!
Ironically, our wonderful ice cream man brought me a box of pillar candle making supplies that he had found at a yard sale.  I was touched that he thought of me and told him how thankful I was.  However, at the time, I couldn't make pillar candles so I have just been storing the box.  I am so happy to be able to use it!  How did he know?  
Being a candle maker, I am often checking out competition and one thing really drives me bonkers (well, not bonkers, but it bothers me!).  That is the majority of candles that claim to be "aromatherapy" or "made with soy" or
"all natural".   In order to be aromatherapy, a candle needs to actual have the true aroma (in other words, essential oils or essences) in the candle.  I am amazed at how many candles have absolutely no real oil in them!  Only synthetic fragrance derived from petroleum that is labeled TOXIC by the FDA (but candles and body products do not have to label it as so , they just have to put fragrance).  The FDA has said that due to the low percentage of the synthetic fragrance, it does not have to be labeled.  You will find synthetic, toxic, cancer causing fragrance in ORGANIC body products, Natural Soy Candles, Aromatherapy Candles/Body Products& Natural Home Products.  This minuscule amount of fragrance can kill me!  Or at least send me to the E.R.!   What kind of "aromatherapy" is that?!  Customers are becoming more aware of the dangers of burning paraffin candles but are still learning that most products still contain petroleum & phalates in the form of fragrance.  All it takes is for us to get the word out!  We like to trust our manufactures and the labels on items.  Just like you read the ingredient list on foods, I highly recommend reading the ingredients on candles.  If it doesn't say made of: 100% soy, Essential oils (or plant essences/botanicals), and a cleaner burning and sustainable cotton wick.......stay clear!  Your lungs are at stake!
Don't forget!  Tomorrow is First Friday @ Milepost 5!!  Come enjoy the festivities as artists throughout the complex open up their studios and let strangers in.  Everyone is welcome and the retail shops (including mine, JUST THE GOOD STUFF), will often have sales and workshops, while the artists throughout the complex dull out treats and love to talk about their work.  E.A.T. will most likely have a band playing  on their stage and will, ofcourse, be serving their out-of-this-world food.  See you there?
Milepost 5 is really easy to get to.  Just take I-205 to the Glisan exit and go west.  Turn right on NE 82nd Ave.. Go one block and turn left on Oregon St.. Find a place to park.
So, at my store's Grand Opening the Mayor, Sam Adams, came in and said, "This is the best smelling store in Portland!".  Well, he is right about that one!
The Grand Opening of JUST THE GOOD STUFF @ Milepost 5 (NE 82nd, just N. of Glisan) was a lot of fun.  Many wonderful people came in, browsed, oohed and aahhed & bought organic fragrance for their home & body.  If you have the chance to stop by, I also have a collection of upcycled home & garden art (tiki torches, hummingbird feeders, garden art), handmade chocolates, hand painted glassware, fused glass, jewelry, pottery faces made by my son, greeting cards and whimsies.  I hope to see you there! 
I am jazzed!  Now you can buy my highly sought after candles at my little boutique in Milepost 5.  Located just N. of Glisan on NE 82nd Ave., and across from the community center park, Milepost 5 is a live/work community with a fab restaurant E.A.T. (eat, art, theater), a gallery, free community activities and concerts, and various shops.  My shop, JUST THE GOOD STUFF, located next to the restrooms in the hallway by the restaurant, will be loaded with my candles, melts, and body products, as well as upcycled items for the home and garden and necessary treats (caramel corn and chocolates for starters).  Official opening will be March 18th, with the Grand Opening Ceremony April 8th.  The complex grand opening extends throughout the weekend with free activities, music, a ribbon cutting ceremony by the mayor, and much more.  I will be giving out FREE samples of sweet w/ heat caramel corn and lip balm. Hope to see you there!
Now you can find my organic fragrance candles at Aster & Bee in Portland, OR!  Plus, don't forget to check out my Grand Opening of JUST THE GOOD STUFF at Milepost 5 in Portland, OR April 8th and 9th. 
www.justthegoodstuff.net
/