Shopping Cart
Your Cart is Empty
There was an error with PayPal
Click here to try again
Thank you for your business!
You should be receiving an order confirmation from Paypal shortly.
Exit Shopping Cart
As I was making one of my favorite foods with my children- Thai salad rolls with fresh mint & carrots from the garden along with rice paper rolls and bean threads from Thailand- after just getting home from some vintage shopping..I thought I should clarify how I stand on some things....
*Since I am passionate in my business about buying local & American, I wanted to clarify that I am not totally against buying from other countries.  What I am against is unfair wages and working conditions and the use of large amounts of fuel to ship items that could be made and bought local  with fair wages and treatment.  I, of course, also want to support and stimulate the American economy with my purchases but if there are items that cannot be grown in America then, as long as it can be purchased with good conscience, then sometimes foreign materials are necessary.  I can't imagine having to give up mangoes or salad rolls but I would, if they could not be ethically bought! 
*With regard to the vintage look and feel of my products.......I encourage buying vintage and enjoy the look NOT BECAUSE I MISS THE GOOD OLD DAYS.  The good old days do not exist!  Many people have lost their lives and given up more than we can imagine to gain freedoms that didn't exist in the "good old days".  I don't EVER want to go back there!  Plus, the "good old days" had no modern medicine, had dark ages, diseases we don't even have to think about anymore, slavery, oppression, dirty water, no modern amenities, I could go on and on and on!  There was nothing good about that!!!    However, in our new found freedoms (I am referring to the majority of us in America, not the many still oppressed  in other parts of the world that still need help) we slipped into habits of excess and waste, not being thoughtful of the future or the consequences of our actions.  This is why I like vintage.  Why buy something new when there is already one made with character & history?  Why fill land fills with plastic bottles and use non-renewable resources when there are perfectly good, and a whole lot more charming, glass jars to be used?  Why throw out and buy new when something can be fixed?  Why do we need everything to be shiny and new?  Plus, these shiny and new items are usually made in a foreign country (possibly unethically) boosting their economy but not ours, and shipped thousands of miles wasting precious resources.
*How do I feel about corporations?  I often hear people talking negatively about the corporations and acting as if these corporations aren't run by actual people.  But they are.  REAL people invest sweat & tears to create these corporations.  REAL people with feelings.  However, where many corporations go wrong, is when greed takes over and money becomes more important than values.  This is where we need to take a stand.  I don't believe putting down companies or viewing hard work as a negative is a healthy attitude.  Corporations are successful because CUSTOMERS BUY FROM THEM.  Money speaks.  If a corporation outsources everything oversees so they can make more money, customers should stop buying!!!!  If we are all willing to pay a little more for American made items & fair trade items and maybe just buy a little less if need be, then corporations will listen.  If their "made in china" items don't sell but their "made in america" items do, which ones do you think they will continue to carry?   We cannot simply blame the companies.  WE need to take a stand and make a difference!  We don't necessarily want these corporations to go out of business.  After all, they DO create thousands of jobs for AMERICANS and most were started by hard working, AMERICAN individuals and were once small businesses themselves.  We just need to get them to sell American items and fair trade items and items without plastic or toxins (fragrance, artificial colors, etc.) by not buying the stuff we know we shouldn't!!!   Many people talk the talk but don't walk the walk.  Next time you go out shopping, if you end up at a big box store, I encourage you to be aware as to what you are buying.  Be willing to shell out a little more for the good stuff.  Have you noticed that shelves in big stores have become a little bit more eco-friendly?  That items typically found in specialty stores can now be found?  This is because of supply and demand.  Let's walk the walk!  Let's buy local.  Let's write big box stores and corporations and let them know we won't be buying there until they sell American made and fair trade items and get rid of toxins.  Let's buy fragrance & dye free.  Let's pay a little extra and buy a little less (if need be to stay in budget). Let's shop the small businesses that make a committment to buying local and sustainable and show the big corporations that we can't be bought!  Let's put our money where it counts and watch the difference!
Thanks for your time!  I don't know everything and am continuing to learn so would love your imput!
Sincerely, Amy
Thank you, California, for a warm welcome to the California Gift Show!  I was in the LA Mart/Beckman's West division and the response was wonderful!  So many retailers are switching from synthetic fragrance and petroleum based candles.....it is wonderful!  Not only am I excited that business is booming, but I am so glad that more non-renewable resources are being saved and less toxins will be filling the air!  A great big thanks to my new clients!  You can now find my 100% natural soy candles (for real 100%, not 100% soy and then added toxic fragrance like most candles!) at these fine locations:
Splendid Things ( Paso Robles, CA)
Urban Farmhouse (Salinas, CA)
Topanga Home Grown (Topanga, CA)
Vintage Cousins (Whittier, CA)
Designer's Furniture (Glendale, CA)
The Washburne Cafe' (Springfield, OR)
Roxie's Charity Boutique and Gallery (Phoenix, AZ)
Etcetera (Portland, OR)
Designscape (Hanalei, Hawaii)
MADE art boutique (Phoenix, AZ)
Chris Hart Studio ( Grants Pass, OR)
and in the spring....Mono Lake Committee...Mono Lake, CA (Yosemite)
Hope you are near one! 
Don't forget!  Tomorrow is First Friday @ Milepost 5!!  Come enjoy the festivities as artists throughout the complex open up their studios and let strangers in.  Everyone is welcome and the retail shops (including mine, JUST THE GOOD STUFF), will often have sales and workshops, while the artists throughout the complex dull out treats and love to talk about their work.  E.A.T. will most likely have a band playing  on their stage and will, ofcourse, be serving their out-of-this-world food.  See you there?
Milepost 5 is really easy to get to.  Just take I-205 to the Glisan exit and go west.  Turn right on NE 82nd Ave.. Go one block and turn left on Oregon St.. Find a place to park.
So, at my store's Grand Opening the Mayor, Sam Adams, came in and said, "This is the best smelling store in Portland!".  Well, he is right about that one!
The Grand Opening of JUST THE GOOD STUFF @ Milepost 5 (NE 82nd, just N. of Glisan) was a lot of fun.  Many wonderful people came in, browsed, oohed and aahhed & bought organic fragrance for their home & body.  If you have the chance to stop by, I also have a collection of upcycled home & garden art (tiki torches, hummingbird feeders, garden art), handmade chocolates, hand painted glassware, fused glass, jewelry, pottery faces made by my son, greeting cards and whimsies.  I hope to see you there! 
I am jazzed!  Now you can buy my highly sought after candles at my little boutique in Milepost 5.  Located just N. of Glisan on NE 82nd Ave., and across from the community center park, Milepost 5 is a live/work community with a fab restaurant E.A.T. (eat, art, theater), a gallery, free community activities and concerts, and various shops.  My shop, JUST THE GOOD STUFF, located next to the restrooms in the hallway by the restaurant, will be loaded with my candles, melts, and body products, as well as upcycled items for the home and garden and necessary treats (caramel corn and chocolates for starters).  Official opening will be March 18th, with the Grand Opening Ceremony April 8th.  The complex grand opening extends throughout the weekend with free activities, music, a ribbon cutting ceremony by the mayor, and much more.  I will be giving out FREE samples of sweet w/ heat caramel corn and lip balm. Hope to see you there!
Now you can find my organic fragrance candles at Aster & Bee in Portland, OR!  Plus, don't forget to check out my Grand Opening of JUST THE GOOD STUFF at Milepost 5 in Portland, OR April 8th and 9th. 
www.justthegoodstuff.net
Well, I've changed up my labels 6 times this year and this time I think I finally got it right!  I am very happy with these.  They are elegant, recyled, down to earth, slightly whimsical, branded and are just paper that is wrapped around and taped so the buyer can take it off and have a plain candle if they would like.  I am also making tags for my coffee candles and other funky sizes.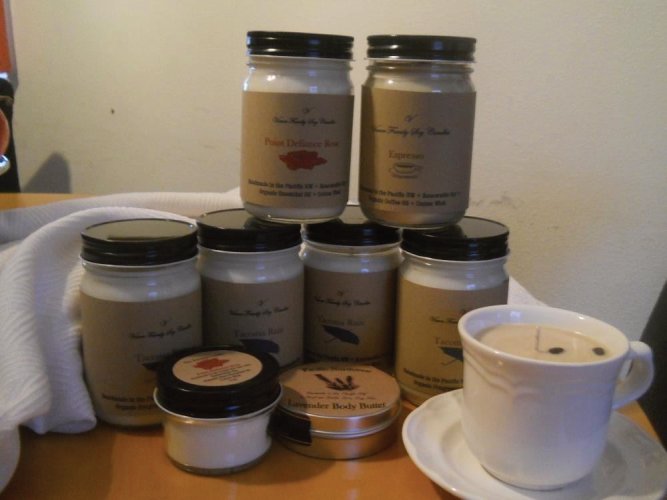 What do you think?
I will still keep my recycled white labels for any hard-core fans but otherwise, I really like the recycled brown.
Speaking of new......Handmade Local Market opened this weekend!  If you haven't had a chance to check it out, please do!  For the month of February you can buy one of my healing shea,soy and essential oil massage candles for only $5!   This Saturday, ALL CUSTOMERS GET FREE LIPBALM while supplies last.  One per customer.
Plus, I have a shelf of OOPS! candles with the wrong wicks, discontinued fragrances, discontinued jars, etc. that are only $5!
Hope to see you there! 
/