Shopping Basket
Your Basket is Empty
There was an error with PayPal
Click here to try again
Thank you for your business!
You should receive an order confirmation from Paypal shortly.
Exit Shopping Basket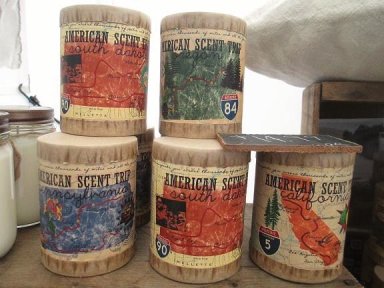 Take a journey with your nose through the USA!  I'm
creating, based upon my own, personal travels, a series of candles that takes you on a journey through each state with your nose! 
As Helen Keller put it so perfectly , " Smell is a potent wizard that transports you across thousands of miles and all the years you have lived."
Currently ready are:
Oregon (made with pure essential oils of Douglas fir, sage & coffee with a helping of organic hazelnut and marionberry flavor oils)
Washington (made with pure essential oils of Douglas fir, lavender, & lilac with a generous helping of organic apple flavor oil)
California (nothing reminds me more of California than a fresh, warm, just of the tree, juicy orange- plus, I've added essential oils of Redwood cedar & eucalyptus along with organic strawberry and grape flavor oils)
Pennsylvania (we used to live near Hershey, Pa so I was awakened by the smell of warm chocolate wafting through my window each morning.  Thus, this yummy candle contains: organic chocolate flavor oil along with organic oils of: honeysuckle, cinnamon, and molasses)
South Dakota (after long, hot drives across South Dakota, a stop at Wall Drug for a strawberry shake or some local sassparilla is just the ticket.  Add the essential oils of spruce, pine, and sage from the forests and you've got an amazing scentsation!)
Each state comes with a more descriptive story and some interesting facts or recipes from/about the state.
Some fun tidbits-
Our American Scent Trip candles have been featured on USA Love List and are one of the founder's favorite items of all time!
The cast of the t.v. show, GRIMM, adore my AST-Oregon candles and wrote a special note to Vance Family Soy Candles to let us know!
The first lady of Oregon is a fan of our AST-Oregon candles!
I hope you, too, enjoy our new candle line and they transport you on a trip throughout the beautiful country of America!  - Amy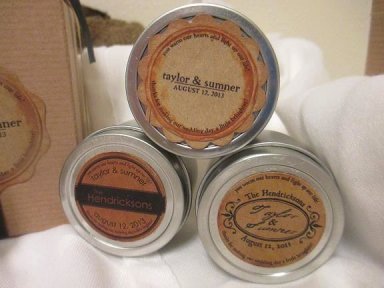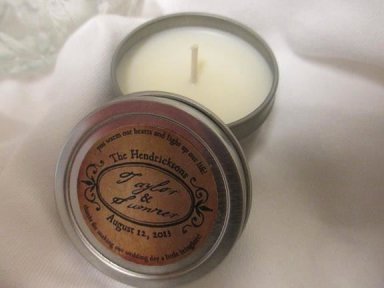 Planning a wedding or special occassion?   Check out our custom candles for weddings & events!  People love these adorable candles personalized with your names and sentiments and will cherish
them (unlike many favors that end up in the trash :))  Not only are they adorable, smell great (custom scents available too!), and fun, but they are an earth friendly option that will portray your sustainable values.  Please use our contact form or call us to start your special candles for your special day!
-Amy
Ever wonder why your soy candle looks like it has frosting on the top?  What about the bubble on the sides of the glass?  What about all those companies that say "soot free"?    Well, here are some answers!
1) Why DO soy candles start to change color and get a white "frosting" as they age? 
Answer:  This is actually a GOOD thing.  This is proof that the candle is made with real vegetable oils and not petroleum or synthetics.  It is just a natural occurance that doesn't affect the quality of the candle in the least bit.
2) What's up with the weird look on the sides of the glass? 
Answer:  This is the oil separating from the sides of the glass.  This is more common during the cold months.  It is perfectly normal and doesn't affect the quality of the candle.
3) So many companies claim their candles are "soot free" and  "smoke free", why don't Vance Family Soy Candles claim that?
ANSWER: Because  then we wouldn't be telling the truth.  In order to burn a candle, SOMETHING MUST BE BURNED.  When burning something, SOOT WILL HAPPEN.  Although soy candles (and especially our candles since we don't use petroleum in our scents either), and cottom wicks, let off  LESS soot than petroleum candles (parraffin), we don't claim things that aren't true.
Have any other questions?  We'd love to answer them!
As I was making one of my favorite foods with my children- Thai salad rolls with fresh mint & carrots from the garden along with rice paper rolls and bean threads from Thailand- after just getting home from some vintage shopping..I thought I should clarify how I stand on some things....
*Since I am passionate in my business about buying local & American, I wanted to clarify that I am not totally against buying from other countries.  What I am against is unfair wages and working conditions and the use of large amounts of fuel to ship items that could be made and bought local  with fair wages and treatment.  I, of course, also want to support and stimulate the American economy with my purchases but if there are items that cannot be grown in America then, as long as it can be purchased with good conscience, then sometimes foreign materials are necessary.  I can't imagine having to give up mangoes or salad rolls but I would, if they could not be ethically bought! 
*With regard to the vintage look and feel of my products.......I encourage buying vintage and enjoy the look NOT BECAUSE I MISS THE GOOD OLD DAYS.  The good old days do not exist!  Many people have lost their lives and given up more than we can imagine to gain freedoms that didn't exist in the "good old days".  I don't EVER want to go back there!  Plus, the "good old days" had no modern medicine, had dark ages, diseases we don't even have to think about anymore, slavery, oppression, dirty water, no modern amenities, I could go on and on and on!  There was nothing good about that!!!    However, in our new found freedoms (I am referring to the majority of us in America, not the many still oppressed  in other parts of the world that still need help) we slipped into habits of excess and waste, not being thoughtful of the future or the consequences of our actions.  This is why I like vintage.  Why buy something new when there is already one made with character & history?  Why fill land fills with plastic bottles and use non-renewable resources when there are perfectly good, and a whole lot more charming, glass jars to be used?  Why throw out and buy new when something can be fixed?  Why do we need everything to be shiny and new?  Plus, these shiny and new items are usually made in a foreign country (possibly unethically) boosting their economy but not ours, and shipped thousands of miles wasting precious resources.
*How do I feel about corporations?  I often hear people talking negatively about the corporations and acting as if these corporations aren't run by actual people.  But they are.  REAL people invest sweat & tears to create these corporations.  REAL people with feelings.  However, where many corporations go wrong, is when greed takes over and money becomes more important than values.  This is where we need to take a stand.  I don't believe putting down companies or viewing hard work as a negative is a healthy attitude.  Corporations are successful because CUSTOMERS BUY FROM THEM.  Money speaks.  If a corporation outsources everything oversees so they can make more money, customers should stop buying!!!!  If we are all willing to pay a little more for American made items & fair trade items and maybe just buy a little less if need be, then corporations will listen.  If their "made in china" items don't sell but their "made in america" items do, which ones do you think they will continue to carry?   We cannot simply blame the companies.  WE need to take a stand and make a difference!  We don't necessarily want these corporations to go out of business.  After all, they DO create thousands of jobs for AMERICANS and most were started by hard working, AMERICAN individuals and were once small businesses themselves.  We just need to get them to sell American items and fair trade items and items without plastic or toxins (fragrance, artificial colors, etc.) by not buying the stuff we know we shouldn't!!!   Many people talk the talk but don't walk the walk.  Next time you go out shopping, if you end up at a big box store, I encourage you to be aware as to what you are buying.  Be willing to shell out a little more for the good stuff.  Have you noticed that shelves in big stores have become a little bit more eco-friendly?  That items typically found in specialty stores can now be found?  This is because of supply and demand.  Let's walk the walk!  Let's buy local.  Let's write big box stores and corporations and let them know we won't be buying there until they sell American made and fair trade items and get rid of toxins.  Let's buy fragrance & dye free.  Let's pay a little extra and buy a little less (if need be to stay in budget). Let's shop the small businesses that make a committment to buying local and sustainable and show the big corporations that we can't be bought!  Let's put our money where it counts and watch the difference!
Thanks for your time!  I don't know everything and am continuing to learn so would love your imput!
Sincerely, Amy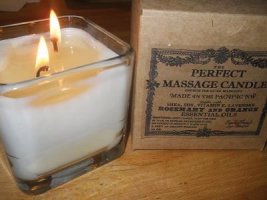 They're back!  Customers were going nuts awaiting the return of my massage candles and I am happy to say, they are back!  I had decided to remove them until I had labels that were worthy of the candle.  Vintage Paper Boutique has designed just that and I am proud to introduce my amazing, natural, nourishing, perfectly warm massage candle with its new, apothecary vintage style label.  As always, there are NO SYNTHETIC FRAGRANCES, PHALATES or Foreign Materials in The Perfect Massage Candle.  Enjoy!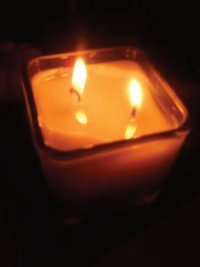 How exciting it is to see my candles on other websites, in catalogs  and in stores!  Even more exciting is the fact that people are converting to sustainable, petroleum free, foreign material free, synthetic fragrance free candles!  I want the world to be healthy for a very long time.  Just thinking about the here and now doesn't work for me, especially since I have children so everyday I am reminded of what the future may bring.  I know that candles are just a little start, but how wonderful it would be if everything were sustainable and not petroleum based and full of toxins?!  Here are some amazing businesses, run by amazing people, that are devoted to selling only healthy, eco-friendly products.  They sell my candles and two
are offering free shipping for the holidays!  Thanks to companies like this, we will hopefully enjoy many more Merry Christmases.
Sandalwood essential oil soy candles are now available!  I have had so many requests for sandalwood (which I had shunned away from due to the $100 an ounce price tag!) that I decided to see if possibly, sandalwood is so strong that I don't need much.  And I was very pleasantly surprised!  I have no desire to sell candles for $100 each.  After all, I really want people to stop depending upon petroleum based products and to stop using synthetic fragrance.  That isn't going to happen if a candle costs over $100!!!  Turns out, just a few drops of the highly fragrant essential oil is all I need for a  6 oz. candle.  YEAH!!!  Of course, that still means that each drop costs about $1.00, but, at least it keeps it attainable!  The smell is amazing!  Musky, earthy, exotic, sexy, very romantic if I do say so myself!
I also have combined sandalwood, frankensince, patchoulli  and a few other organic  oils, in an organic coconut oil base, to make a wonderful Musk. 
Some more exciting news!  I am in the process of making pillar candles!  I adore pillar candles and often come across beautiful pillar holders which I cannot use because my candles are all jar candles.  The soy I use is not solid enough to be made into pillars.  Once lit, the pillars would melt and create a a big mess!  However, the American company that makes my GMO free soy "wax", has made a GMO free, soy "wax" for pillar candles!  It is extra hard and I can't wait to see how it works!  If it works out well, you'll being seeing them on the website soon!
Ironically, our wonderful ice cream man brought me a box of pillar candle making supplies that he had found at a yard sale.  I was touched that he thought of me and told him how thankful I was.  However, at the time, I couldn't make pillar candles so I have just been storing the box.  I am so happy to be able to use it!  How did he know?  
NEW PRODUCT Trial SALE!!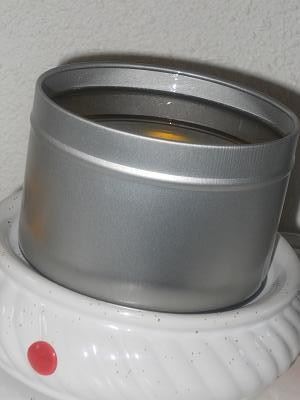 We now have flameless candles!  Just place your highly scented (with essential oils and botanicals) soy, wickless candle on the warmer and enjoy fire-free. healthy fragrance throughout your home or business for at least 2 months!  I love this flameless candle!  Because flames in candles burn hotter than the warmer, the scent lasts longer and is more true to form.  Unfortunately, we have yet to find a warmer that is both economical and Made in the U.S.A..  Any suggestions?  I REALLY need some Amercian Made warmers! 
When we come out with a new product,  we price it at a crazy low price so you can try it and see if you love it as much as we do!  For the month of September ONLY, Our Flameless Soy Candle Set is only $20 with FREE SHIPPING!!!  Comes with warmer so it is ready to go upon arrival!  After September, the price will be $30 plus shipping for the set, and $22 plus shipping for the flameless candle alone.   No limit!  Stock up for you and your friends!
OH, you are going to flip for my new, handcrafted, pottery containers!  Raine or Shine Pottery (yes, it is spelled correctly) of Woodland, WA, has handcrafted and designed the perfect little pots for my candles.  They are slightly curved in for maximum burn time and glazed in a cream colored glaze to enhance any home decor.  Three slightly different sizes will be available, or you can buy the set of 3.  When your candles have burned out, you have wonderful pottery to keep (or, if you live local, bring them to me at JUST THE GOOD STUFF and I can refill them!).  Thank you Raine or Shine Pottery!!!
/