Shopping Basket
Your Basket is Empty
There was an error with PayPal
Click here to try again
Thank you for your business!
You should receive an order confirmation from Paypal shortly.
Exit Shopping Basket
Well, I've changed up my labels 6 times this year and this time I think I finally got it right!  I am very happy with these.  They are elegant, recyled, down to earth, slightly whimsical, branded and are just paper that is wrapped around and taped so the buyer can take it off and have a plain candle if they would like.  I am also making tags for my coffee candles and other funky sizes.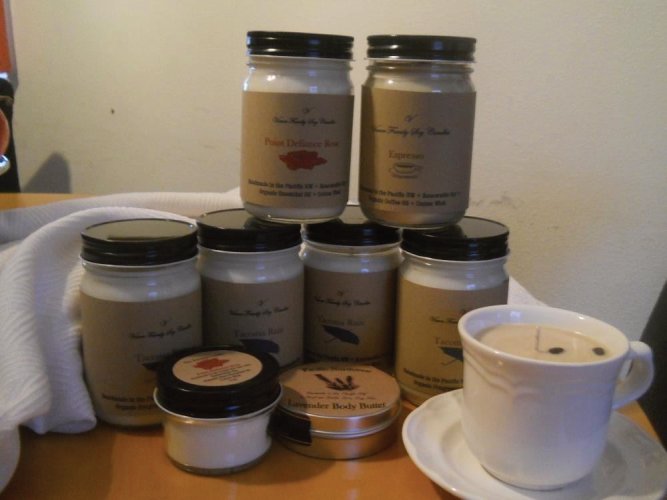 What do you think?
I will still keep my recycled white labels for any hard-core fans but otherwise, I really like the recycled brown.
Speaking of new......Handmade Local Market opened this weekend!  If you haven't had a chance to check it out, please do!  For the month of February you can buy one of my healing shea,soy and essential oil massage candles for only $5!   This Saturday, ALL CUSTOMERS GET FREE LIPBALM while supplies last.  One per customer.
Plus, I have a shelf of OOPS! candles with the wrong wicks, discontinued fragrances, discontinued jars, etc. that are only $5!
Hope to see you there! 
Crazy busy getting ready for the Seattle Gift Show!  Greatly looking forward to it!  Hope to see you there!
So, I've done it.  Enough people have said they want a shop in Clark County and I found a good starter location that I can afford.  It's not going to be called Vance Family Soy Candles but rather Handmade Local Market.  It will have dozens of vendor's wares, from art to artichoke cheese.  Creating a Market makes it much less risky for me and creates great opportunities for all those involved AND fills a void in the shopping marketplace.  I know that we are all going to have a great experience and I look forward to a CRAZY year.  See you there!
I am so excited!  My sister Jen and I are opening a shop at Milepost 5 in Portland!  It is an answer to prayer and I am very excited to see what is in store for me.
Meanwhile....my massage candle is AMAZING.  James has used it on me all week (and vice versa) and it feels incredible.  Warm, smooth and still has plenty left.  I am excited about this product.  James says everyone should have one.  Thanks, James, for your support and allowing me to use you as a "guinea pig".
/