Shopping Basket
Your Basket is Empty
There was an error with PayPal
Click here to try again
Thank you for your business!
You should receive an order confirmation from Paypal shortly.
Exit Shopping Basket
Don't forget!  Tomorrow is First Friday @ Milepost 5!!  Come enjoy the festivities as artists throughout the complex open up their studios and let strangers in.  Everyone is welcome and the retail shops (including mine, JUST THE GOOD STUFF), will often have sales and workshops, while the artists throughout the complex dull out treats and love to talk about their work.  E.A.T. will most likely have a band playing  on their stage and will, ofcourse, be serving their out-of-this-world food.  See you there?
Milepost 5 is really easy to get to.  Just take I-205 to the Glisan exit and go west.  Turn right on NE 82nd Ave.. Go one block and turn left on Oregon St.. Find a place to park.
So, at my store's Grand Opening the Mayor, Sam Adams, came in and said, "This is the best smelling store in Portland!".  Well, he is right about that one!
The Grand Opening of JUST THE GOOD STUFF @ Milepost 5 (NE 82nd, just N. of Glisan) was a lot of fun.  Many wonderful people came in, browsed, oohed and aahhed & bought organic fragrance for their home & body.  If you have the chance to stop by, I also have a collection of upcycled home & garden art (tiki torches, hummingbird feeders, garden art), handmade chocolates, hand painted glassware, fused glass, jewelry, pottery faces made by my son, greeting cards and whimsies.  I hope to see you there! 
Well, I've changed up my labels 6 times this year and this time I think I finally got it right!  I am very happy with these.  They are elegant, recyled, down to earth, slightly whimsical, branded and are just paper that is wrapped around and taped so the buyer can take it off and have a plain candle if they would like.  I am also making tags for my coffee candles and other funky sizes.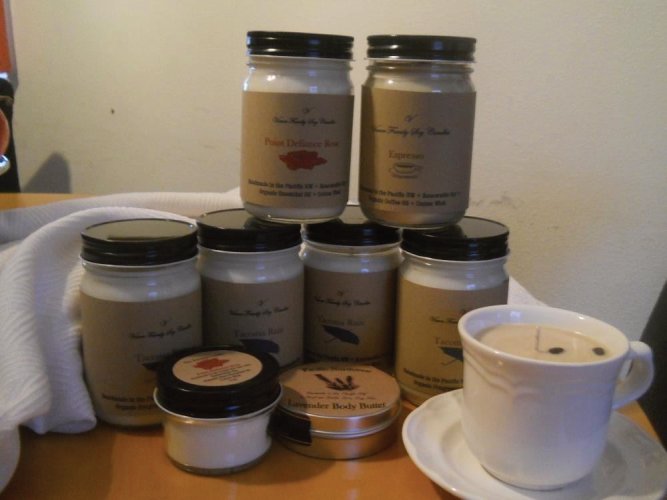 What do you think?
I will still keep my recycled white labels for any hard-core fans but otherwise, I really like the recycled brown.
Speaking of new......Handmade Local Market opened this weekend!  If you haven't had a chance to check it out, please do!  For the month of February you can buy one of my healing shea,soy and essential oil massage candles for only $5!   This Saturday, ALL CUSTOMERS GET FREE LIPBALM while supplies last.  One per customer.
Plus, I have a shelf of OOPS! candles with the wrong wicks, discontinued fragrances, discontinued jars, etc. that are only $5!
Hope to see you there! 
Crazy busy getting ready for the Seattle Gift Show!  Greatly looking forward to it!  Hope to see you there!
I just want to say. "THANK YOU, THANK YOU, THANK YOU!" to all the wonderful people who supported me this past year!  I want to especially thank Taylor, for constantly telling me that you know I CAN DO ANYTHING and your unfailing faith.  Leaf, for being my inspiration for many of my products and for always telling me how wonderful they are.  Lake, for being my smell tester and eating all the chocolates from the shop!  Tim, for never doubting me and always encouraging me.  Mom and Dwayne, for all your support and the fact that you absolutely LOVE my product!  Heather, for being a living testimony and #1 fan!  Jen, Ben and Thomas for helping move things, build things, and watching the shop. All of my repeat customers who keep coming back for more and more and tell me what an amazing product I make.  This means more to me than you can imagine.   And my wonderful vendors in my Christmas shop.  It was a delight to meet everyone of you and I look forward to colaberating with you again, SOON!  Speaking of which, now that the Christmas rush is over, it's on to Valentine's Day!   I look forward to expanding my in-home shop for a holiday sale and adding many more, quality, handmade, local vendors.  In March, I am hoping to open a Made Local Market, about 4 miles from my home, complete with a gluten-free bakery, chocolate shop, drive-thru Real Food Stand, Garden and hundreds of vendors.  This is a process that I have been praying about and thus, am not going to jump in until I get the go-ahead.  In February I have the Seattle Gift Fair.......if anything, it will be fun to be up in Seattle with my family and do some sight seeing.  Happy New Year Everyone!
/